Thank you for your interest in our paint products. The paints that we sell are a basecoat/clearcoat system, which is the type of paint used on real cars today. This paint is high quality and meant to last a lifetime. Our paints are sold in 2oz. jars pre-thinned, ready to airbrush. All of our colors require clear coating, we sell this also. This clear will harden & be ready to polish in 24 hours air dry. We recommend that you polish this with Perfect-It 3 polishing compound. If you clear over your decals, then we recommend that you put on the base color, then one coat of clear, then decal, then re-clear over decals. This is recommended because the decals will not adhere well to a flat finish, which is what the basecoat dries to. We also sell 2-part primers & sealers to be used as undercoats before painting. If you have never used this system before, you need to try it, as I'm sure you will not be disappointed. Our prices are listed below & in the quantity in which sold:
2-part primer = 2oz. $4.95
2-part sealer = 2oz. $4.95 (white, black or gray)
Basecoat color = 2oz. $4.95
2-part clearcoat = 2oz. $5.95
Chromallusion & flip-flop colors = 1oz. $20 We have most Nascar colors available and we also have production car colors. At this time, we will only accept money orders. Shipping will be actual shipping cost using USPS Priority Mail @ $3.95 (up to 2lbs.) Please email Dave if you wish to place an order or to see if we have your color in stock and he will get you in touch with me for shipping the paint. Also, we will not be able to ship overseas or out of the USA. Sorry for the inconvenience. Thanks again for your interest.
Al Mosteller Email:totlpackage2000@webtv.net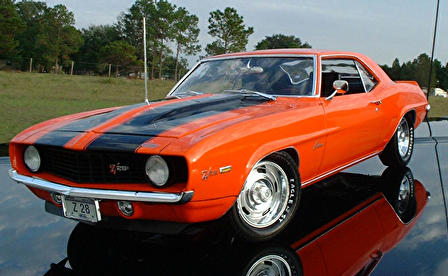 This Revell '69 Camaro was painted using the system that we are selling.